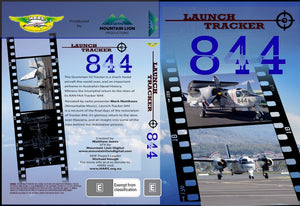 The Grumman S-2 Tracker is a much loved aircraft the world over, and an important airframe in Australia's Naval history. Witness the triumphal return to the skies of ex-Royal Australian Navy Fleet Air Arm Tracker '844'
Narrated by radio presenter Mark Matthews, Launch Tracker 844 is a recount of the final days of the restoration of Tracker 844, its glorious return to the skies over Illawarra, and an insight into some of the men behind the restoration process
This is a physical product and hence shipping charges will be added in the checkout process. There is a digital download option available here that offers immediate download following payment that does not levy a shipping charge.
We have partnered with Flagstaff Group, an employer of people with disabilities to fulfil DVD orders. Please allow 2-3 days for handling prior to postage and then 4-5 days for Australia Post to deliver within Australia. Please note that COVID 19 may affect these delivery times. At present we cannot assure delivery to any address outside Australia and therefore will not offer any non-digital products to international customers. We will review this policy periodically as the pandemic restrictions are revised. 
HARS would like to thank Matthew Jones of Mountain Lion Productions for his extremely generous support in making this product possible.